LEVEL SWITCHES
Sasthan manufactures 2 type of float operated magnetic level switches, Which are either side mounted or top mounted.Sasthan level switches can be manufacture to sult applications of services and are magnetically operated glandless micro switch eliminating any possibility of leakage which avoids a lot of complication than the conventional models. A wide range of switches are available in weather proof and flame proof housing.
Side Mounted Level Switch
Sasthan side mounted level switches are assembled with float and permanent magnets. These float level switches work on magnetic coupling with snap acting contacts. These are used of the purpose of alarm as well as for pump starting or stopping. The switch should always be connected in series with on electrical relay.Sasthan side mounted level switches can be used with internal/External Gauge Units for very high pressure and temperature.
OP. Pre and Temp. : 0-100 kg/cm2 and 0-400°C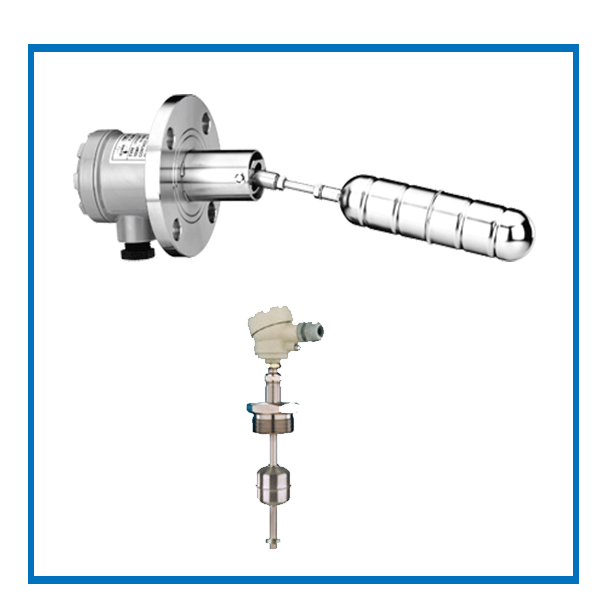 Top Mounted Level Switch
Sasthan Top mounted displacer operated level switches are specially used for level signalisation in sumps and vessels wherever monitoring at one/two/three different levels at considerable depths are required.
OP. Pre and Temp. : 0-20 kg/cm2 and 0-250°C
Material of Construction
| | |
| --- | --- |
| Chamber, Flange | SS-304/SS-316/PVC |
| Float | SS-304/SS-316/PVC/PP |
| Housing | SS-304/SS-316/Aluminium |
| Switch | As per Customer's Request |
| Other Grades of M.O.C. | CAF/Teflon/Wire Mesh |
| Current Rating | 230V.AC at 5 Amp |
| Electrical Connection | ¾" ET |
| Process Connection | Any International Standard |
Enquiry / Ordering Information
1) Type
2) Range / size
3) No. of Signals
4) Material of Construction
5) Service
6) Op. pre. and Temp.
7) Qty.